My first virtual catalog, posted for Fall 2004, featured hand-painted pottery by Hartstone Pottery of Zanesville, Ohio. I loved their Pumpkin Patch pottery design for autumn celebrations. I also included their Funny Farm pattern in the StillMadeinUSA.com 2004 Holiday catalog.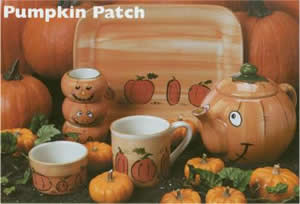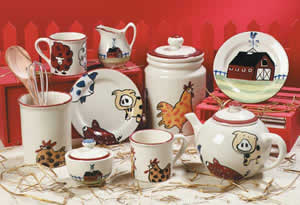 Then, in 2005 I was distraught to hear that the pottery was being closed by its parent company, Carlisle Home Products. In past years, Hartstone Pottery had made blueberry pottery for LLBean and hand-painted soup tureens and other pieces for Crate and Barrel. As these larger accounts were lost to cheaper imported pottery, the Pottery struggled to remain profitable. Finally, Carlisle Home Products decided to pull the plug.
The closure of Hartstone Pottery not only meant the loss of jobs in Zanesville, but the potential loss of an artistic heritage in an area with a long history of handmade, hand-painted pottery. I also learned that the closure was impacting local potters who had relied on the Hartstone kilns to have their own pottery fired. I resorted to EBay to buy up a few pieces of Hartstone Funny Farm, while sending offers of free web advertising to Carlisle and Hartstone, and urging support for the company on local web boards. I didn't have much hope that the company could be saved.
But, finally some good news. An article in the local Zanesville paper reported that a group of investors was working to save the pottery. Today I checked back, and was delighted to see that the Hartstone website is back on line! The Original Hartstone Pottery has reopened and is producing a limited number of their pottery patterns. I am hoping that more will come on-line as they grow the business. If you love hand-painted pottery, here's your chance to support a wonderful enterprise. Welcome back, Hartstone Pottery!