Part 2
of my trip report on the Ford Rouge Complex in Dearborn, MI ... [Part 1 gives my reactions to the tour inside the
Dearborn Assembly Plant
]

Vertical Manufacturing—No More
Another aspect of the visit to the
Rouge Complex
is the understanding it gives of the complexity of the original enterprise. The short movie prepared by the tour company, which is not affiliated with Ford, emphasizes Henry Ford's experiment in vertical manufacturing. The complex had its own steel mill, plate glass facility, and foundry, owned sources for the rubber that was used, and had its own deep-water port to bring in needed materials. However, the present day complex obtains its parts from many different suppliers, some of which are still brought in at the Rouge port. The steel mill still supplies steel for the stamping plant, but it is not owned by Ford. The tour guide told me that Ford would only buy steel from the on-site company as long as the price was competitive.
Green Building, Brown Product?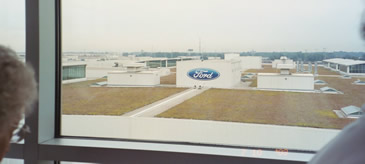 A major focus of the factory tour was the "green design" features that had been incorporated in the new assembly building. This included a green roof, featuring layers of material topped by a variety of sedum, designed to lower temperatures in the building and capture some of the rainwater that otherwise would run off. In addition, skylights on the roof were added to increase natural light in the building and lower lighting costs. Rainwater recapture systems, swales and ponds were used for on-site stormwater management (although the guide kept calling it a "storm management" system!).
Wildlife habitat was enhanced with natural plantings, and fruit trees (crabapples and one other that I can't recall) were planted to provide food for wildlife. Ford even has a beekeeper who manages the bee hive within the planted area, placed to ensure pollination of the trees. Additional green features included the permeable pavement used for employee parking lots, which lessens rainwater runoff, and a system to recapture paint fumes (VOCs) as a source of hydrogen for a fuel cell to produce electricity for the painting facility.
The irony to me, of course, was that the company had built a green building within which it was assembling Ford 150 trucks, not exactly know for their environmentally friendly profile! The other sad part for me was that, despite the hopeful and forward-looking taped message from Bill Ford, the news about tough times at Ford Motor Co. made me fear that all of this effort to be innovative and green would have been for naught.
Stephanie, Webmaster
StillMadeinUSA.com