American-made polo shirts are scarce as hens' teeth, but perhaps will be spared the fate of the Passenger Pigeon.
Pine Island Sportswear
, makers of polo shirts in lots of great colors, recently decided to take their polo shirt sewing off-shore. Then came the announcement by
King Louie International
that, after 72 years in business, they would cease all production by June. This was "fowl" news indeed! The
King Louie
brand of polos and other garments are union made in USA, and have been a favorite with "Buy American" shoppers.
Now for the good news!
Michael Lerner, son of the founder of the company that became King Louie International, has reached an "agreement in principle" to buy the sewing plant in Baxter Springs, KS. The company will be renamed
King Louie American
, and will continue to produce the King Louie label using union labor in USA.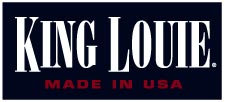 Although the company's market focus has been the promotional products industry, King Louie products have been available to individual consumers thanks to sites like
AllAmericanClothing.com
and
BuyGolfShirts.com
. So celebrate the saving of a great label and 163 American jobs by ordering a King Louie polo shirt this weekend.
Sources: The Joplin Globe (Baxter Springs, KS) , King Louie Saved By Son of Co-Founder

Stephanie
StillMadeinUSA.com