This weekend I scored a "vintage" food mill from the thrift shop. I didn't even know I needed a food mill, but when I saw it on the shelf it just looked so sturdy and from another (non-electric gizmo) era that I had to take it home.
Made by Foley Mfg. of Minneapolis, Minnesota, this food mill is beautiful in its simplicity and utility. I'm not sure when Foley Food Mills went out of production, but they were probably in use in most of our grandmothers' kitchens.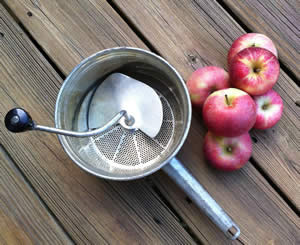 I have a batch of locally grown, fresh apples that I am cooking up and I will run them through my mill to make applesauce.
Enjoy the coming of autumn, and keep checking where things are made!
Stephanie, Webmaster
StillMadeinUSA.com