North Pole.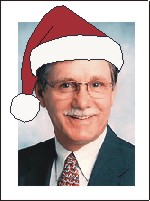 This week Santa's Elves voted to organize and form a union, reacting in part to concerns that "The Boss in Red" might decide to outsource toy production. In the words of one elf, "If that happens, the jobs go south!" The small workers researched possible unions to affiliate with, but in the end decided on the UAW. "We make cars and trucks, as well as trains and dolls, so it seemed like a good fit" said an elderly elf. Rumor has it that the other deciding factor was that Ron Gettelfinger is just so darn good looking!
The newly formed UAW Local 90N invited me to become an honorary member and informal spokesperson because of my elfin qualities, extreme interest in toys, and years of experience dealing with bad little boys. I promised to help get the word out about the need to improve working conditions at the Pole. For the most part, Santa is a beneficent taskmaster, but thinning of stratospheric ozone and global warming have the elves worried. "We're also running short on coal for stockings of bad little girls and boys," said one elf. "We're trying to develop a solar-powered substitute, but it just doesn't have the same impact."
So, you heard it here first. Collective bargaining at the North Pole. What next—health care for everyone? Support your local elves this holiday. Do your shopping at StillMadeinUSA.com!